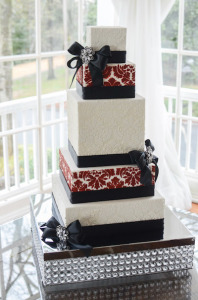 While there are many parts of wedding planning that are fun, easily one of the most enjoyable parts is choosing the cake. But while sampling a multitude of decadent cakes might seem like a dessert lover's dream, it can actually be quite overwhelming if you go into a tasting without a plan.
That is why before you step foot into one of delicious bakeries that specialize in
professional cakes in Atlanta
, you need to know more than your favorite flavor of frosting. In fact, you need to have five facts figured out well before your first bite.
Your Guests
The amount of mouths to feed can not only greatly impact how much cake you order, but the type of cake you choose. After all, an intimate gathering of only 50 people does not require a grand five-tiered cake and a grand affair of 250 people will require more than two tiers of cake. A good rule of thumb is to order at minimum enough cake for 80% of your confirmed guests, but this number can vary depending on the type of cake and whether your guests are fans of dessert. Your pastry chef should call you at least two weeks prior to the wedding to confirm your final tally of guests and allow you to make any adjustments in size that are necessary. It is also important to consider any obvious and life-threatening allergies that your guests may have, such as to peanuts or coconut, and provide an alternate flavor. Also, it is important to keep in mind that your cake should not just wow these guests with looks – it should also cause a few mouths to water, so ensure that it is a color that guests will find appetizing.
Your Menu
How much and what type of food you will be serving can also impact your dessert decisions. If you are only having passed hors d'oeuvres, for example, you might want to get a few extra slices, but a five-course meal may fill up your guests far before the cake is cut. Also, the food and drink that you serve can impact how the cake tastes. Be sure to ask your caterer and pastry chef about what will best complement your meal and your dessert to ensure the perfect match of flavors.
An often forgotten consideration is where your wedding cake will reside for this event. If you are having a fully outdoor affair, for example, buttercream icing might not be the best choice for your cake, as it has a tendency to melt. You should also consider the scale of your room when choosing your design. A large cake will overwhelm a smaller venue, while a large ballroom can make even the largest cake seem inadequate.
Your Theme
These tiered masterpieces can do more than satisfy a sweet tooth. A wedding cake can also help emphasize a color palette or complement the decor. For example, a rustic wedding will look even more homey with a cake that features textured buttercream icing or succulents as accents. Vintage cake stands are also a beautiful touch, as well as displaying multiple smaller cakes rather than one large one. A modern black tie event, on the other hand, would be the ideal place for elaborate gumpaste decorations or metallic fondant. It also demands a single decadent cake that is multi-tiered and sculpted to perfection.
You
At the end of the day, this is your wedding. Much like a birthday cake, this dessert is the celebratory sweet that culminates your big day and should make you and your future spouse happy. To ensure a gleeful gathering of guests, you can ask your chef about a tiered cake that features multiple flavors or a cake buffet to give a multitude of options. But, when it comes to the final decision, choose flavors that you like, designs that you find appealing and a display that makes your heart sing.