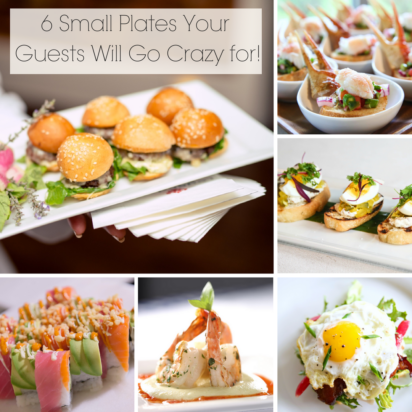 Shrimp and Grits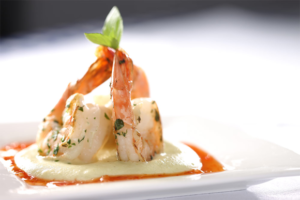 For a more casual event, this classic southern staple is a homerun. To keep it sophisticated, plating is key. Just a few shrimp and a delicate sweep of grits and sauce lend a light, elegant feel to a traditionally heavy dish
Crab Claw Crostini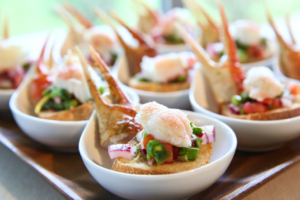 When available and in season, shellfish such as crab or lobster can add just the classy touch you may be looking for. These crispy toasted breads are a perfect complement to the tender steamed crab. The fresh veggies here add a final, bright touch- in flavor and appearance.
Sushi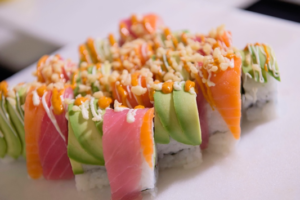 Sushi makes any event feel fresh and exciting. A tray with several different options is sure to please even the pickiest of guests, while adding a gourmet touch to your event.
Mini Bison Burgers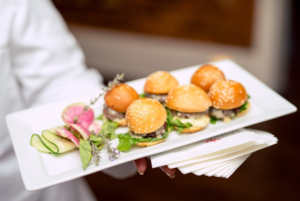 Your guests will love these classic mini-burgers with a sophisticated twist. By using bison, these mini sliders avoid the feel of a cook out and stay refined. Dress them up with gourmet buns and toppings! These handheld bites work especially well for standing room only events.
Burrata, Vanilla Poached Apricots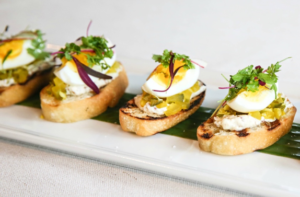 The smooth, creamy Burrata cheese on crispy bread creates a beautiful combination of textures, while the poached apricot lends a subtle hint of sweetness to this stylish, handheld appetizer. The originality truly shines through in this stylish, decadent appetizer.
Lyonnaise Salad with Fried Egg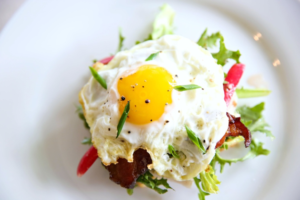 This fresh, French inspired salad consists of salad greens, thick-cut bacon pieces, and a fried egg with a simple vinaigrette. Your guests will love this far-from-basic salad that is bursting with flavor and elegance.
Make Your Event Legendary
No matter the size of your event, The Legendary Events catering team will make it unforgettable with a completely customized menu from appetizers to dessert. Contact us or call 404 869 8858 today to start planning your legendary event.