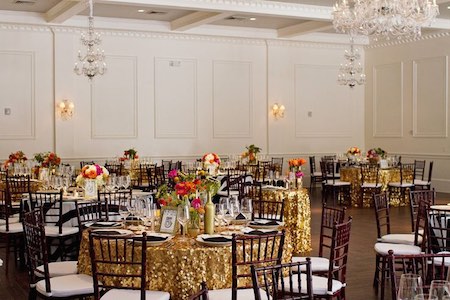 You've reached the decor stage of planning your corporate event or party. After entertaining the notions of several different color palettes, you find yourself being drawn to ideas that literally sparkle and shine. Metallic hues are trending and using them in your event space can infuse a luxurious air to help keep your corporate event from going bland. But how do you add a sheen to your business affair without blinding your guests? The most important rule of using glitter, sequins or metals in your decor is to use them with intention and sparingly. Metallics draw the eye and reflect light to create the illusion of a large space, which is why reflective surfaces are often used by interior designers in small rooms. No matter the venue, when used appropriately, the addition of metals can add a missing touch of class. Follow these tips on
how to include metallics in your corporate event without going overboard
.
Incorporating Metal Decor Appropriately
When adding sparkle to your decor, think of every piece that you add as a mirror. Each bit of glitter will draw your guests' focus, so ensure that each accent is placed with purpose. It's also crucial that you choose the correct way to utilize your bits of glimmer. A single metallic can be used as a main color or an accent; if you choose to use multiple shimmers, they should be featured together whenever possible. For example, if you want to include burnished silver and bronze, make sure they appear side by side in each iteration or it may read color-blind instead of eye-popping. Another good rule of thumb is to stick to the basics. While it might seem "fun" in concept, colored sequins or glitter can read more like a high school prom than a mature corporate gathering. If you must use a colored metallic, go for a muted shade rather than a bold color. For example, a navy blue sequined tablecloth will read modern and chic. Traditional metallic hues can smartly accent your color scheme or replace a neutral to seamlessly blend into the palette. You can replace gray with a sleek silver to add dimension or swap yellow for gold to infuse warmth. These metals can also help define the tone of your event. Silver or chrome is seen as polished and clean, which can give an event a maturity that corporate events often crave. Gold, on the other hand, adds life to a room and conjures images of wealth and winning, making it perfect for an awards ceremony or a gathering. Rose gold has a blush tint, making it feminine without being obvious. This hue is perfect for a women-driven event, such as a breast cancer fundraiser or a bridal show, and can give a pink palette a much-needed update. Copper and bronze are having a moment as Fall approaches. These metallics are the current obsession of decorators and designers alike, which means these modern colors can give your event a forward, modern look that feels fresh in the chilling air. Once you've settled on which sparkle works best for your decor, you need to ensure that it is well represented in your decor without overpowering the rest of the room. This means that you should think outside of the traditional candlesticks and cutlery to more creative glittered accents. A chair covered with a shimmery allumette can add a gleam to your seating and sparkly sprinkles can update your dessert offerings. A lighting feature dripping with crystals can make your space glow while a sequined tablecloth draped over a table is a b eautiful way to quickly catch your guests' attention upon entering. But while you might try to save a few dollars by following one of the many tutorials on how to create metallic decor elements, it's best to avoid the DIY approach. Nothing cheapens an event faster than a pile of glitter falling off of a sign or the obvious lines uneven spray paint can create. Instead, invest in quality rentals from a trusted company that are sure to stand up to even the most raucous corporate party. If at all possible, work with an
event planner
who has experience not only in curating stunning decor set-ups, but also has experience in the proper utilization of metallics. The end result will be breathtaking and serve as a sparkling reflection of your company's ability to shine.