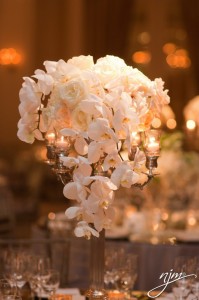 How do you get the most out of your floral vision when planning your wedding?
 For starters, plan ahead and bring our legendary experience to the table!  Small things like repurposing or rearranging floral for different parts of the wedding weekend will help you embrace your flowers for miles of smiles and wows now!  Some florals tips we love to share that are showing up at legendary weddings include a touch of the tried and true but always with a new exciting twist:
It's Not-Your-Grandmother's Candelabra! 
 Candelabras have come a long way from yesterday to today. No longer are they traditional or the expected. Candelabras come in all different shapes, sizes, colors, textures, etc. They don't just stand as centerpieces anymore either and try hanging them from the ceiling or dripping them in flowers or crystals!
Flowers Should Take Your Breath Away!  
Speaking of breathless, Baby's Breath no longer need to be used traditionally either. The once traditional bloom can be easily utilized in several different pieces of décor including a monogram overhang, a canopy, or even on an LED lit estate table. Utilizing the flower in new and different ways can turn them into a contemporary and stunning statement.
Stay tuned for more tips like these!
   A Legendary Event is dedicated to keeping your wedding legendary! 
www.alegendaryevent.com